Giving with Impact facilitates philanthropic-minded individuals and businesses to collectively pool funding and resources for charitable causes.
Make a Donation to help NOW with teen suicide prevention!
THE NEED: 
Suicide is the second leading cause of death among kids aged 11-18. 90% of kids who die by suicide demonstrate warning signs of suicidal intentions.
PROGRAM SUMMARY:
HERE Now (Helping, Engaging, Reconnecting, and Educating Now) responds to the urgent need for teen suicide prevention programs in San Diego County. HERE Now is working to prevent youth suicide, suicidal ideation, and help foster safe school environments through suicide and bullying prevention education. HERE Now is a collaborative program led by North County Lifeline in partnership with San Diego Youth Services, South Bay Community Services, and San Diego County school districts.
PROGRAM SERVICES:
HERE Now conducts presentations at school campuses to educate 7th – 12th grade youth and their families about suicide risk factors – providing awareness and the knowledge needed to get help for troubled youth. Plus, HERE Now is changing the status quo by teaching education professionals how to recognize and respond to the warning signs; reducing the social stigma attached to those who seek mental health services; implementing bullying prevention efforts; and establishing a system of service that identifies vulnerable youth before they attempt suicide.
WHO THEY HELP:
HERE Now serves students in middle and high schools throughout San Diego County.
To donate today through Giving with Impact and help us receive the matching gift pledge click on the Donate button.
Volunteers Make a Difference
 
Volunteers help with beach cleanup for I Love A

 Clean San Diego and Surfrider Foundation.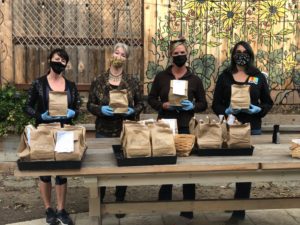 Volunteers prepare Grab and Grow Gardens for Healthy Day Partners
  Volunteers distribute backpacks for the homeless
View more pictures of volunteers in action in the Gallery i.e. Grab and Grow Gardens for Healthy Day Partners, backpacks for the homeless, I Love A Clean San Diego cleanup days, Surfrider Foundation, ProduceGood, Support The Enlisted Project (STEP)

What We Do
Giving with Impact is a group of people who together to leverage their resources of time, talent and treasure in a social and empowered setting in which they engage in continued learning and support of nonprofit organizations doing the groundwork to improve the lives and support of the highest need populations in our society.
This collective impact circle has the goal of strengthening our communities and specifically:
Fully inform individuals and families of their potential and ability to maximize their ability to make an impact that benefits those less fortunate.
Match philanthropists with other giving individuals and businesses to collectively impact the problems of our society by pooling funds and/or volunteering time with nonprofit organizations.
Establish a peer network of people who enjoy each other's company.
Fund programs and volunteer at nonprofit organizations that are making a difference in our community.