Giving with Impact facilitates philanthropic-minded individuals and businesses to collectively pool funding and resources for charitable causes.
Make a Donation to help victims of human trafficking!
Human trafficking is involves controlling a person through force, fraud, or coercion to exploit the victim for forced labor, commercial sex, or both.  Trafficking victims can be male and female, youth and adults. San Diego is one of the 13 highest sex trafficking areas in the United States, according to the FBI, and the number of trafficking victims in San Diego continues to increase every year.
Did you know that social media and online platforms are the most common places sex-traffickers attempt to recruit from, especially during the COVID-19 pandemic? We understand the increasing risk of recruitment of our youth. Here is an 11-minute video highlighting the increased risk of human trafficking and recruitment of youth during COVID-19 and how to have conversations with youth about their internet usage. Download the San Diego Trafficking Prevention Collective PDF with questions to ask your child to keep them safe online and FBI recommendations to parents.
Giving with Impact has secured a matching $7,500 pledge from Carlsbad Rotary to award to North County Lifeline's Project LIFE.  With your donation, you join a community of activists working to end human trafficking. YOU are making a difference today. Together we can stop the exploitation of our neighbors, our children, and our community.
The core mission of North County Lifeline is a commitment to EDUCATE, EMPOWER, and SUPPORT the fight to combat human trafficking in San Diego County. Their human trafficking prevention and intervention program, Project LIFE (Living In Freedom from Exploitation) is to support human trafficking victims on their path to recovery and self-reliance.
To donate today through Giving with Impact and help us receive the matching gift pledge click on the Donate button.
Volunteers Make a Difference
 
Volunteers help with beach cleanup for I Love A

 Clean San Diego and Surfrider Foundation.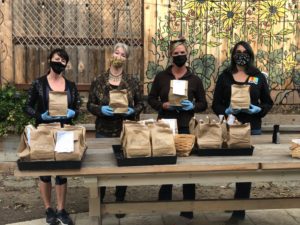 Volunteers prepare Grab and Grow Gardens for Healthy Day Partners
  Volunteers distribute backpacks for the homeless
View more pictures of volunteers in action in the Gallery i.e. Grab and Grow Gardens for Healthy Day Partners, backpacks for the homeless, I Love A Clean San Diego cleanup days, Surfrider Foundation, ProduceGood, Support The Enlisted Project (STEP)

What We Do
Giving with Impact is a group of people who together to leverage their resources of time, talent and treasure in a social and empowered setting in which they engage in continued learning and support of nonprofit organizations doing the groundwork to improve the lives and support of the highest need populations in our society.
This collective impact circle has the goal of strengthening our communities and specifically:
Fully inform individuals and families of their potential and ability to maximize their ability to make an impact that benefits those less fortunate.
Match philanthropists with other giving individuals and businesses to collectively impact the problems of our society by pooling funds and/or volunteering time with nonprofit organizations.
Establish a peer network of people who enjoy each other's company.
Fund programs and volunteer at nonprofit organizations that are making a difference in our community.